Dermo Protocol No. 3.0
GLOWING SKIN ACTIVATION
//= $slide['img']; ?>
Natural Vitamin C
Since Vitamin C is a fragile and unstable ingredient that is easily oxidized, we use its superior, ultra-stable form - Ascorbyl Glucoside. It is released into active Vit C during the penetration of skin cells immediately after application to the skin, activated by a specific enzyme present in the cell membrane. It has scientifically proven excellent antioxidant properties and brightens the skin by inhibiting the synthesis of melanin, promotes collagen synthesis combating the formation of wrinkles.
KEY BENEFITS
skin lightening and even tone
protects against damage from free radicals preventing premature skin aging
activates collagen synthesis providing smoothness and reducing wrinkles
//= $slide['img']; ?>
Natural Azelaic Acid
We use micronized plant-derived Azelaic Acid, which provides excellent comedolytic action to prevent blackheads and lightens the skin through the reversibly inhibiting tyrosinase. Additionally, it stabilizes Vitamin C which makes our formulations even more effective.
KEY BENEFITS
reduces appearance of skin discolorations
reduces skin redness
keeps skin pores clean
//= $slide['img']; ?>
Rock Samphire (retinoid-like) extract
This is a unique costal plant known since antiquity for its richness in vitamin C and mineral salts. It mimics the action of retinoid in the skin providing powerful anti-wrinkle properties by stimulating the replication of keratinocytes through increasing the Cellular Retinoic Acid Binding Protein. It increases epidermis thickness, decreases the depth of wrinkles, but all that without the side effects typical of synthetic retinoids. It does not cause photosensitivity, skin dryness, inflammatory reactions or irritation.
KEY BENEFITS
diminishes fine lines and wrinkles
brings anti-inflammatory properties
visibly smooths the skin
//= $slide['img']; ?>
Our cutting-edge, patent pending Signature Complex of natural RNA Sodium Salt, Marine Exopolysaccharides, Natural Hyaluronic Acid and a natural biomimetic transdermal delivery system that provides scientifically proven reinforcement of natural skin immunity.
KEY BENEFITS
Boosts skin regeneration
Activates natural skin defense abilities
Accelerates cellular repair capabilities
//= $slide['img']; ?>
Bioactive Complex of tropical fruits
It contains Mango, Papaya and Pineapple extracts that have been used as an energy source for the skin for thousands of years thanks to the perfect combination of fruit acids, vitamins and minerals. We use this exotic natural fruit cocktail to improve skin texture, accelerating gentle desquamation for a healthy glowing skin.
KEY BENEFITS
brings skin radiance
provides gentle exfoliation of dead skin cells
helps to combat uneven skin tone
//= $slide['img']; ?>
Natural α-Bisabolol
Our alpha-Bisabolol is sustainably sourced from Candeia tree oi. It is up to twice more effective as synthetic bisabolol. It brings powerful soothing effect by inhibiting pro-inflammatory mediators, especially to sensitive skin as well as reduces UV induced skin redness.
KEY BENEFITS
reduces skin irritations
visibly soothes the skin
minimizes skin redness
Ultra-potent Vitamin C skin revitalizing therapy
Dermo Protocol No. 3.0
GLOWING SKIN ACTIVATION
This top of the line brightening and revitalizing treatment is perfect for dull, uneven skin with fine lines and wrinkles. Due to ultra-stable form of natural Vitamin C and Azelaic acid in combination with over 25 superior Marine and Botanical actives it energizes and firms the skin, moisturizes and illuminates dull complexion, reducing visibility of wrinkles and providing healthy and radiant skin look.
Clinical-grade results
Our Dermo Protocol 3.0 provides superior effectiveness without over-promising confirmed in clinical study across people aged 25-70 with sensitive skin
level of protection against damaging free radicals*
//= get_template_directory_uri(); ?> //= $chart['value']; ?> //= $chart['description']; ?>
lightening discolorations**
//= get_template_directory_uri(); ?> //= $chart['value']; ?> //= $chart['description']; ?>
//= get_template_directory_uri(); ?> //= $chart['value']; ?> //= $chart['description']; ?>
*in-vitro trial, 60 min after use
**in-vivo instrumental trials after 28 days of use for controlled results.
PROTOCOL
Formula facts
100% natural, vegan and clean to avoid any irritations for even most sensitive skin
Powered by our Signature Complex to support natural immunity of your skin enhancing its natural regenerative and protective abilities
Formulated with over 25 ultra-potent Marine and Botanical actives including ultra-stable form of natural Vitamin C, natural Azelaic Acid and precious Saffron Flower and Rock Samphire extracts to provide natural energy and healthy skin complexion
Clean Beauty in the Jar
Composed without any synthetic and toxic ingredients in the sake of the health of your skin and the planet. Contains only 100% natural and natural origin ingredients, including fragrance.
VEGAN & CRUELTY FREE
NATURAL FORMULAS
SAFE FOR SENSITIVE SKIN
BIODEGRADABLE INGREDIENTS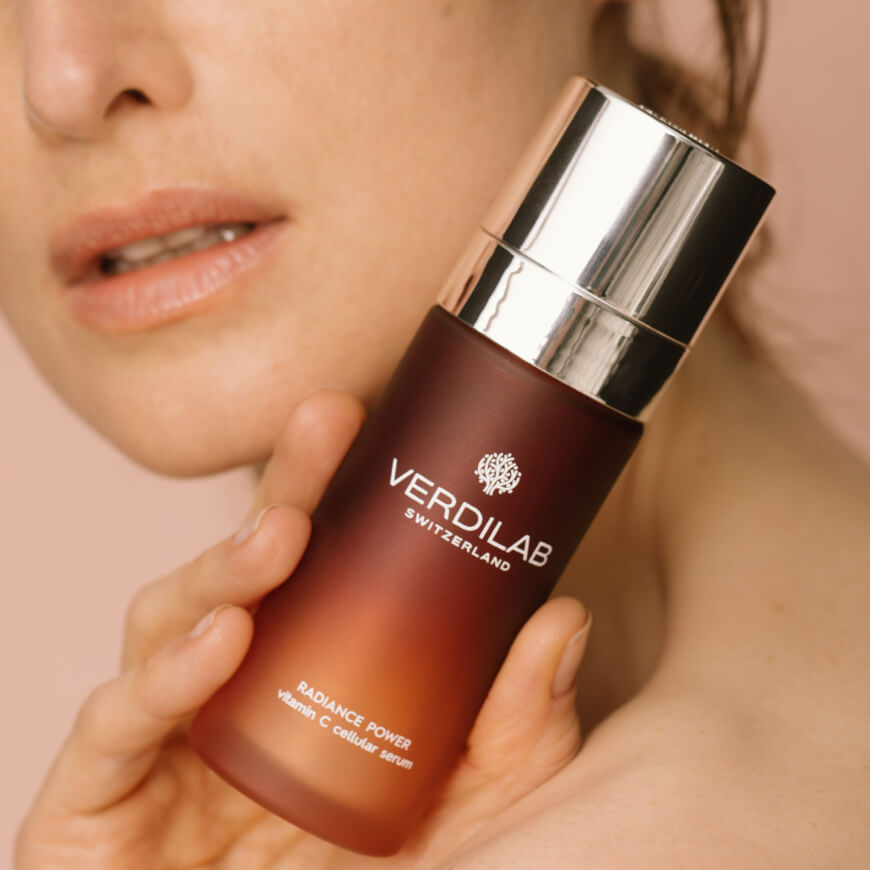 MEET OUR FOUNDER
VERDILAB is my personal contribution for the betterment of the health of our skin and our planet.
My dream was clear - I wanted to create 100% natural and non-toxic skincare that has a power to support immunity of the skin. To go beyond Clean Beauty offering cosmetics without any synthetics or irritants. Because I believe in the healing power of pure nature, and I want to share this power with you. If we know nature well, understand it intimately and use it properly, it can do miracles, changing our skin, our body, and our life for the better. That is why I would like to inspire You to re-think and revise Your approach to beauty. For the sake of Your health and Our environment. I'm Victoria, a 3rd generation medical doctor with over a decade of hands-on experience in the cosmetics industry.
Join our club to get additional
benefits & exclusive offers
Everything we do is based on science, knowledge and passion - we are happy to share them with you to have the healthiest skin and life possible.
Your opinion is crucial for us, and we would like to give you a unique opportunity to directly influence what we create and implement.
NEWSLETTERS WITH SEASONAL PROMOTIONS
POSSIBILITY TO BE THE FIRST TO TEST OUR NOVELTIES FOR FREE AND SHARE YOUR FEEDBACK WITH US